About the Luthier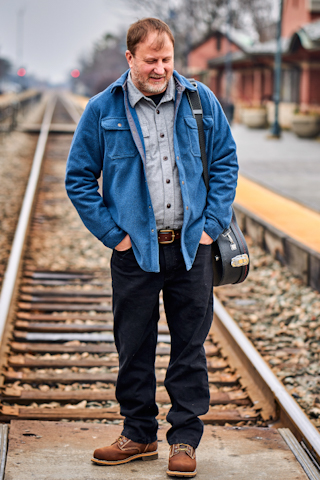 I'm Cary Kelly, owner and luthier of Mya-Moe. After working extensively during 2018 with Gordon and Char Mayer, the founders and original luthiers of Mya-Moe, I am thrilled to be continuing the tradition of building custom handcrafted ukuleles. My background, aside from paying gigs in the worlds of technology and finance, has been in woodworking as a personal passion. Several years ago, I also became very excited about the ukulele. I was first introduced to Mya-Moe as an owner (#1255 and #1808) and have always adored the tone and playablility of the intruments. The asthetic beauty is a bonus.
When Gordon and Char announced their retirement and Gordon offered his equipment for sale, I approached him because I was ready to escape the world of finance and felt this was a perfect marriage of my two primary passions, woodworking and ukuleles. Initially, my intention was to build ukuleles under my own brand but after Gordon, Char and I had a chance to work together for awhile it became clear that we shared many of the same attributes, including a high attention to detail and a focus on quality. That's when Gordon and Char approached me about continuing to build Mya-Moe ukuleles. I hesitated at first, because I wanted to be certain that my instruments would match the high standards already established by Mya-Moe. With over 150 instruments now under my belt, I'm happy to offer Mya-Moe ukuleles to future owners.
Fortunately for me, Gordon and Char Mayer have agreed to remain affiliated with Mya-Moe as chairpersons-emeritus. Their insightful guidance and ongoing support is greatly appreciated .
On a personal note...I live in Wilmette, IL with my wife, Mary, and two children, Katie and Bret (each of whom have spent a sumer interning at Mya-Moe). Mary enjoys hiking and bike riding and is an avid reader. Katie is a talented painter, dancer and choreographer and Bret excels at baseball and hockey.
Mya-Moe's Shop
Located in beautiful downtown Glenview, IL, right accross the street from the train station, the shop offers easy accessibilty to anyone visiting the Chicago area (about 30 minutes north of downtown Chicago). I am thrilled to welcome visitors, but please understand that I am a one-person team, so I recommend scheduling visits ahead of time to ensure you receive my full attention.
Mya-Moe Ukuleles
1121 Depot St.
Glenview, IL 60025
847-906-1900